DMU 50 3rd Generation
Bestseller - More than 15,000 DMU 50 operational worldwide

5-axis machining with speedMASTER spindle as standard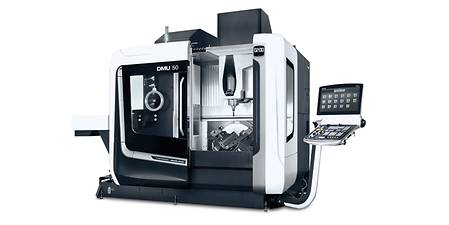 HIGHLIGHTS
5-axis machining at up to 20,000 rpm
Swivelling rotary table for 5-axis simultaneous machining
Tool magazine with 30 pockets as standard and optionally up to 120 magazine pockets
Integrated cooling concept for unrivalled long-term precision
Directly-driven ball screw drive for the best possible accuracy
Linear scales in all axes
Optimal automation from the side
Bestseller with top quality for 5 μm precision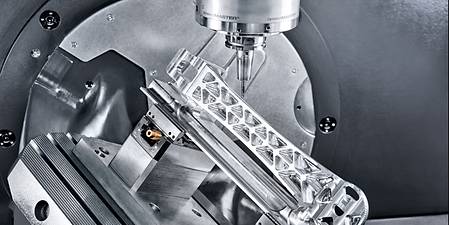 The 3rd generation of the DMU 50 is a mechatronic masterpiece, 20 years on from the original version, and an absolute bestseller in the DMG MORI product range. Following on from the lightning start last year, 2018 sees over 800 machines in the production plan. 
78 % more working area, 40 % faster rapids, 28 % more swivel angle, faster rotary-swivel speeds and power speedMASTER spindles with 36 months warranty and no limit on operating hours. This is combined with tool magazines for up to 120 tools and comprehensive cooling for outstanding precision down to 5 μm. 
Overall, the 3rd generation DMU 50 offers decisive added value. This also applies to the diversity offered within the ERGOline portfolio with high-tech CNCs from SIEMENS, HEIDENHAIN and FANUC. 
Due to its flexibility and versatility, the DMU 50 3rd Generation can be found in almost all sectors – from single part production right up to mass production. Additional static and dynamic rigidity is provided by the stable (monolithic) machine bed and low center of gravity. In combination with directly driven ball screw drives, linear scales and comprehensive cooling, it provides unique precision in this machine class. The DMU 50 3rd Generation is therefore recommended as an ideal, costeffective means of getting ahead in the fascinating world of 5-sided or up to 5-axis simultaneous machining.

DMU 50 2nd Generation - 5-axis top seller for training and workshops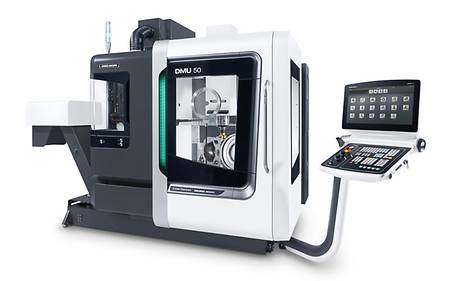 HIGHLIGHTS
NC swivelling rotary table for 5-axis simultaneous machining with high rigidity
Swivel range NC rotary table: –5 ° to +110 °, heavy workpieces up to 300 kg
Direct-drive spindle with 14,000 rpm as standard, optionally 18,000 rpm
Tool magazine for up to 60 tools can be retooled during machining
Latest 3D control technology: CELOS with SIEMENS and 21.5″ ERGOline
Optional HEIDENHAIN iTNC 530 with 19″ ERGOline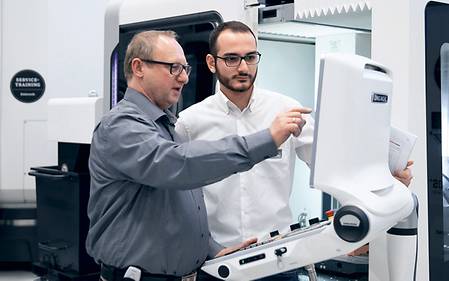 The 2nd Generation DMU 50 is more than just a predecessor. Training organisations and workshops in particular value its compactness and the high-tech control technology as a route to digital production.