DMG MORI Semiconductor Excellence
DMG MORI supports industries with special requirements for their production machines with tailor-made technology solutions. DMG MORI designs and implements pioneering process solutions for the processing of the most demanding components made of technical glass and ceramics for the semiconductor and chip industry. The offer ranges from the optimization of existing machining processes to the planning of holistic turnkey projects.
Semiconductor at a glance: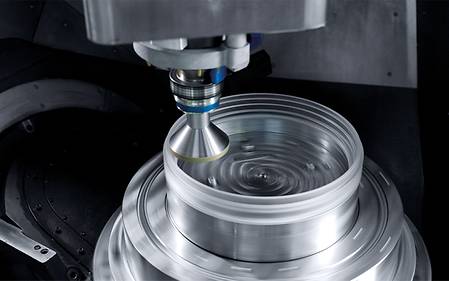 More than 30 years of experience in processing hard, brittle materials
ULTRASONIC 3rd Generation:

Process forces reduced by up to 50% for maximum productivity, surface quality, precision and longer tool life
Sub surface damage (SSD) reduced by up to 40%
Automatic detection and tracking of frequency and amplitude for optimal process stability
Adaptive spindle ULTRASONIC microDRILL for micro-drilling up to > 0.1 mm
Best surface quality up to Ra 0.1 µm thanks to ULTRASONIC, continuously accurate linear drives with up to 2 g acceleration and measuring systems from MAGNESCALE

Exclusive DMG MORI technology cycles and software options:

ULTRASONIC axialGRINDING
ULTRASONIC microDRILL​​​​​
VCS Complete for up to 30% higher volumetric accuracy
ATC for optimal surface quality
MPC 2.0

Holistic product portfolio for all workpieces from 10 to 6,000 mm and up to 150 tons as well as standardized and individual automation solutions
Applications and Machines
Successful automation in the semiconductor industry
As an innovation driver in the field of automation, DMG MORI demonstrates its competence in this field with holistic solutions directly from the factory and from a single source. A large number of ULTRASONIC machines with automation solutions have also been installed in the semiconductor industry - from pallet handling based on the PH 150 to solutions in which the workpiece is fed directly to the ULTRASONIC machining center. In addition to already established standard solutions, we also offer our customers tailor-made solutions specifically for their application.
For several decades now, technological progress has dominated our daily life - with increasing speed. Digitization and networking are playing an increasingly important role in more and more areas of everyday life.
An essential basis for this rapid development are ever more powerful microchips, which are produced in the semiconductor industry with innovative exposure processes. The semiconductor industry needs high-precision components made of technical glasses and ceramics for these lithographic methods / lithography systems. The processing of so-called Advanced Materials such as Quartz glass or silicon carbide is one of the most demanding disciplines in CNC machining. Wafer chucks made of SiC and quartz glass rings are the typical applications here, but also frame components and other assemblies with the highest accuracy. DMG MORI has mastered this discipline since 2001 with machining centers of the ULTRASONIC series and thus contributes significantly to process optimization in the semiconductor and chip industry.
With the aim of making the ultrasonic processing of advanced materials available in as many areas of application as possible and for small to large workpieces, DMG MORI has integrated the ULTRASONIC technology into the DMU monoBLOCK machining centers, the DMU eVo series and the large gantry models and portal machines. With the DMG MORI technology cycle ULTRASONIC microDRILL, an adaptive spindle for micro-drillings up to Ø > 0.1 mm is available. It can be integrated into every ULTRASONIC machine via an HSK-63 interface. ULTRASONIC axialGRINDING is available for all machines with a mill-turn function. With this technology cycle, demanding ULTRASONIC outer and inner cylindrical grinding operations of rotationally symmetrical components can be carried out efficiently and reliably.